MLA Membership for Institutions
[See also MLA Membership for Individuals]
MLA's institutional membership focuses on supporting libraries and their staff members in the healthcare environment.
Institutional dues are based on the number of library/information center FTEs that directly serve medical and health sciences patrons, exclusive of student, temporary or grant-funded positions.
Membership is for 12 months, and is based on a calendar (not anniversary) year beginning in January. All dues are payable in US dollars. Review benefits below.
2024 Categories and UPDATED Dues for Institutions

Dues are based on the number of library/information center FTEs that directly serve medical and health sciences patrons.

Do not include student, temporary, or grant-funded positions.*

LEVEL 1: Library/information center with 1-2 FTEs ($368/year)

CHOOSE >>

LEVEL 2: Library/information center with 3-7 FTEs ($613/year)

CHOOSE >>

LEVEL 3: Library/information center with 8-15 FTEs ($980/year)

CHOOSE >>

LEVEL 4: Library/information center with 16+ FTEs ($1,470/year)

CHOOSE >>
* When calculating FTEs, please consider individuals in your library who provide services to your health sciences patrons—whether they be residents, physicians, nurses, or medical or allied health students, researchers, or educators.
You may exclude in your count individuals who are student or temporary workers; grant-funded positions; or internal-only administrative, IT, or fiscal management staff.
In multi-disciplinary libraries, please adjust your calculation to reflect time dedicated solely to healthcare patrons as noted above.
What Are My Benefits?
Connect
Share and gain ideas, insights, experiences, and expertise in your MLA online communities.
Collaborate and connect with other topic experts by joining an MLA Caucus. Caucuses (based on institution, library, or activity type) provide leadership, programs, and networking for members' wide array of professional practice environments or on short-term issues.
Share your next great idea with a poster, paper, article, or book—at MLA's annual meeting, in MLAConnect, in the peer-reviewed Journal of the Medical Library Association, in an MLA-sponsored CE course, an MLA book—or even on the weekly #medlibs twitter chat!
Learn
Build knowledge throughout your career. Individuals save $40 on MLA's on-demand webinars, $90 on live webcast courses, and $140 to $240 on annual meeting CE.
Access hundreds of hours of meeting content—free! Registrants to each MLA annual meeting get immediate access to e-conference content and all members receive meeting content free after one year (MLA '15-'18 available to all members).
Lead
Gain leadership experience by volunteering on an MLA committee or section at the national level.
Gain recognition with MLA's awards and honors. Apply or nominate deserving colleagues by November 1 each year.
Save 15-30% on MLA publications that address information needs of the profession.
Save on membership in the Academy of Health Information Professionals (AHIP), MLA's peer-reviewed professional development and career recognition program. The academy provides a structure for individual professional development no matter how long you've been in the field, plus members receive a discount of $195 to join.
Discover
Keep pace with the latest professional information with the online MLA News (including email content alerts) and with MLA-FOCUS, MLA's twice-monthly e-newsletter.
Watch the online association calendar for information on meetings, seminars, CE, activities, deadlines, and more.
Align your library goals with your institution's mission and educate your administration with advocacy resources from MLA. Aim for Excellence!
Gain financial support for your education, research, or travel, with more than $50,000 in grants, scholarships, and fellowships available from MLA and sections.
Apply critical research to your everyday practice with open access to the electronic archives of the Journal of the Medical Library Association, MLA's peer-reviewed journal. Members can choose to receive the JMLA in print (additional $50 fee applies).
Reach out to patients and families with MLA resources: connect with MLA's "What did my doctor say?" to help patients decipher "medspeak" terms. Or, complete MLA's consumer health information specialization and establish your role as a patient advocate and educator!
More Benefits for Institutions
Significant savings on site licenses/group purchases for online education and annual conference registrations.
We represent you on national public policy and regulatory issues that affect your institution, such as the National Institutes of Health (NIH) public access policy, appropriations for federal library-related programs, copyright and fair use doctrines, and more.

Free individual membership for your official institutional representative, including all individual discounts, access to MLA programs, activities, and services.
Select image below to download a PDF of this grid.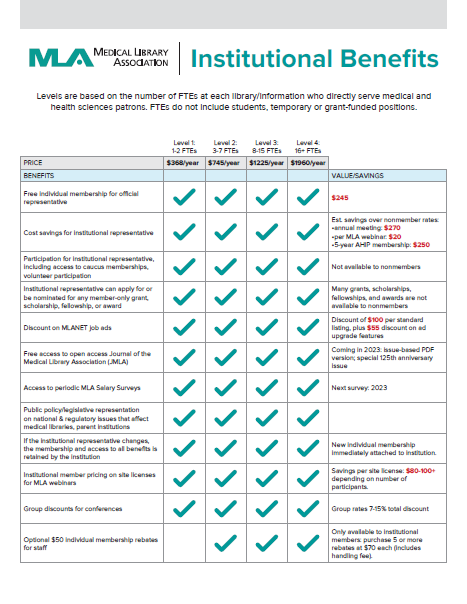 Need to know more? Contact us! Connect with Jim Westwood, Tomi Gunn or Kate Corcoran (312.419.9094) for answers to your questions.